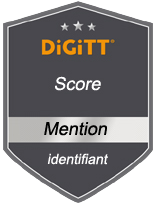 Bienvenue dans l'espace d'évaluation DiGiTT®! / Welcome to the DiGiTT® Platform!
Vous allez accéder au test pour obtenir le certificat DiGiTT®. En appuyant sur le bouton "Log in", vous acceptez les CGU.

You will get access to the test to obtain the DiGiTT® certificate. By clicking on the "Log in" button, you accept the TOS.